Recently I was reading and going through the definition and basic introduction of 5G networks. Hence in this post , i would like to share on the definition of 5G technology , and what are the components ,architecture, functions and features of 5G technology looks likes.
Mobile networks has came and evolve along the great way from 2G until today's topic of 5G, from normal voices call and SMSes into smart data internet usages everything connected through a mobile devices, in the current state we have billion of mobile devices user across the globe.
Lets start the topic by this question,why there's 5G and what are the components in 5G networks that making this technology achieve the functions and requirements? 5G tech & networking is driven by the evolutionary initiatives that led by reasons below:
1) Exponential growth of high density devices and subscribers,the needs of high capacity,performance and spectrum access in RAN radio network segments
2) 5G also need to have some native or even higher flexibility,agility and programmability in non-radio 5G network segments (Front-and-Backhaul networks , access networks,aggregation networks,mobile edge networks,mobile cloud networks, software-defined cloud,IoT)
what are the functional characteristics and dependency of 5G networks ? The need to serve high density of different devices and each of them having different performance attributes (human,machine,sensors,edge systems). 5G networks will also allow separation of control/management/softwarization/services. Virtualization of network physical resources by adopting into NFV style of architecture, resources that includes network connectivity,compute and storage resources. 5G also needs to have the ability to perform network services slicing in order to support different "demand" from different end user devices / points , the slicing will be touch on few areas such as network devices , features and functions, services and applications, data,control and management planes.
From a logical perspective, 5G networks consist of 5 essential functional layers : infrastructure layer,network function layer,orchestration layer , business functional layer, services and application layer.Diagram attached in the post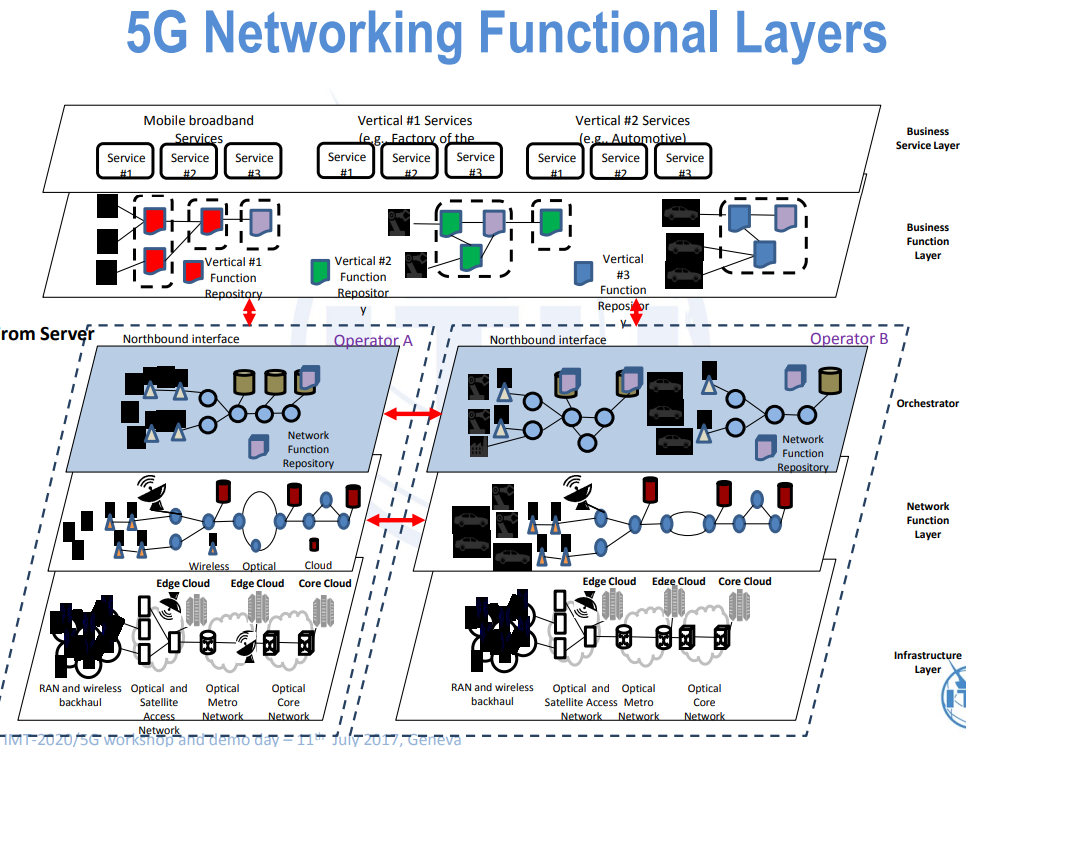 Each and every functional layer are well integrated towards a programmable architecture structure to achieve flexibility,elasticity,separation,agility when dealing with network elements management ,infrastructure , services provisioning, application softwarization aspects in 5G
The planes and control that allows programmable in 5G are summarized as below
1) Application and business services plane - define and implement business process of a particular services
2) Integrated network management and operation plane - enabling the creation,deactivation,operation,control and coordination of the networks and infrastructure
3) Multi-services orchestration and management plane - the interfaces and function to setup,manage,configure group of network instances or nodes
4) Control plane - the collection of interfaces function to control one or more network functions
5) forwarding plane / data plane - the collection of data and traffics responsible for receiving user forwarding traffics
6) infrastructure softwarization plane - mainly deal with E2E cross multi-domain network slicing and provisioning, enabling the operations of software and services networks. This plane facilitate the end-to-end heterogeneous networking and distributed cloud platforms integration.A diagram on the programmable architecture :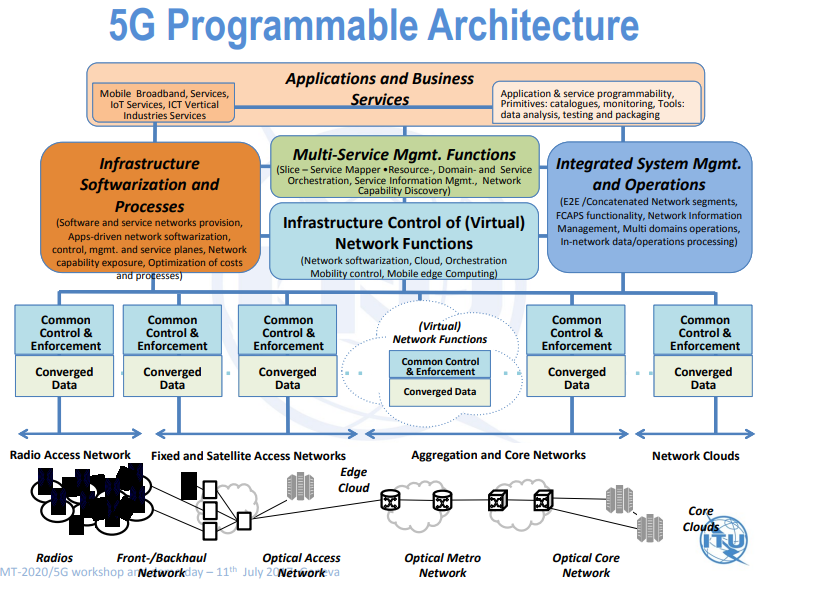 Next lets talk about 5G management and orchestration , simply put the 5G separated functional and layers (VNF/ Resources / Physical infrastructure) are now being managed or accessed by services developer/ network administrator. They need to have the idea,visbilities and information about the deployed infrastructure or the services being provisioned.
So the management operator will gain access into the multi-services management platform via API/SDK, mainly to control the orchestration that span across multi/infra level, services , infrastructure and resources. With the capability of abstracting and discovery the VNFs capabilities and information from the plugins - now the VNFs managers can render enough data,stats,information to the orchestrate platform. RAN/Access/Core/Cloud VNFs each connect to their respective VIM / VNF manager.
Ultimately, the integrated management and operation orchestration allows and achieve few functional and features below :
1) user rights management
2) federation management
3) E2E services inventory
4) Service programmability
5) Services portals / self-care/performance check
6) Infrastructure monitoring / identities
7) Performance management
8) Slice life cycle management
9) FCAPs
Another important part of 5G networks is about performing network slicing , based on the resources and reference I read from internet. Network slicing often being defined / refereed as
1) Isolation of resources ( compute, resources,network links etc) , control and access management for that pool of resources
2) dynamically on creation/ management / allocation of virtual infrastructure resources , mapping the resources to particular services
3) Slices as an union with subset of resources and NFV at a given time ( services instances,network slice instance,resources, exposure of slice stats/ information)
Network slicing is very crucial and important in 5G networks due to the needs of accomodating different connection and communication scenario that inclusive of ultra-low latency , machine to machine communication , QoS isolation design , multi-topology routing in a sharing infrastructure etc.
With the functional and different architecture approach , 5G greatly allows the mobile network operators to dynamically adapt and change the network to meet future demands. Extending th creation of dynamic,configurable,resilient and cost-effective network through the approach of virtualization,network slicing and layering separation. A programmable network with simple interface to the network also allowing more use-cases from services orchestration,multi-domain communication, management , provisioning perspective.